TRADENOMICS WEBINAR GUIDELINES
keep checking for any latest updates!


Date: Sunday, 3rd May 2020
Login time: 3.30 PM to 4.10 PM.
Basic info : 4.20 pm to 4.29 PM.
Webinar starts at : 4.29 PM.
This webinar is different - technology wise, content wise, delivery wise and participation wise. We believe PARTICIPANTS ARE MORE IMPORTANT. Please read till the end for your own benefit.
You need the following equipment / tools / items / technology to attend this webinar:
1. Two good electronic devices
2. Download a Free & Secure app
3. Two Internet connections
4. A calculator
5. Currency notes
6. Two sets of Earphones
The details are given below:
1. Two electronic devices capable of conferencing through internet

– both of them with speakers and one of them with video camera & microphone.
They can be:
a) One smartphone and one computer (laptop or desktop) – if you set 'allow calls from' to 'No one' in the smartphone settings;
b) One tablet (or ipad) and one computer (laptop or desktop);
c) Two computers (laptop or desktop or one laptop and one desktop) - the best combination;
d) One tablet (or ipad) and one smartphone – the last resort;
e) Two smartphones – the worst combination.
Let's call the two devices
Primary (

the bigger one )
Secondary ( the smaller one )
Both shall have speakers and one of them shall have a video camera and a microphone. Primary device is to view, chat and listen to the content and secondary device is to view and listen to the speaker.
Listen to the content ?

Yes, the content speaks too !
As the content contains text, facts, figures and pictures and is expected to be more attractive as compared to the face of the speaker, it would be wise on your part to use the Primary ( bigger ) device to view the content !
IMPORTANT:
AFTER YOUR PRIMARY DEVICE (Say, Laptop) GETS CONNECTED, YOU MUST CLICK F11 TO MAKE IT FULL SCREEN MODE.
(if you experience any problem and need to re-login, click esc, do that and again click F11.)
You need to type all the answers, doubts and questions in the chat box in the Secondary device (not Primary device).
2. Download a Secure & Free app in one of the devices.
Though the host needs to pay, the participants need NOT pay anything to use the app.
Let's call the above two devices as Primary and secondary.
a) Primary is the bigger device (say laptop) and secondary is the smaller device (say smartphone).
b) You don't need to download anything in the Primary device.
c) If the secondary device is a smartphone or a tablet (or ipad), you need to download Google Meet (not Google Hangouts ) in it through Google Play Store or App Store or whatever for a seamless experience.

You could hit a stumbling block, if you attempt downloading it on certain tablets like Amazon Fire. Please follow this in such a case: https://www.techjunkie.com/use-google-meet-fire-tablet/
d) If the secondary device is also a computer, you don't need to download anything in it.
3. Two separate stable high-speed internet connections for the above two devices.
It is preferable to connect internet to computer through Broadband (and not Wifi). The other device (smart phone) should use another internet connection, if available, through Wifi or it can use its own internet data connection, if it is stable.
You are the better judge. Use whatever connections you have wisely.

Give priority in this manner:
1st Priority : Content.
2nd Priority: Speaker's audio.
3rd priority: Speaker's video.
4. A calculator
You should not depend on the calculator app of the smartphone / computer you intend to use as a conferencing device. Get another calculator or another smartphone, which has a calculator app. If you get another smartphone as a calculator, please keep it in flight mode.
5. Bundles of Currency notes:
a) You need 40 pieces of 1000 rupee / dollar / dirham / riyal / rupiah / ringgit notes (Those who use Rupiah may not find 1,000 rupiah note easily; They can instead use 100,000 or 1,000,000 notes, which are easily available in their country; They need to add 2 zeroes or 3 zeroes - depending on whether they use 100,000 or 1,000,000 - wherever they find 1,000 or 40,000 or any other such number below).
b) Yes, what you need is hard paper currency of 40,000 in denominations of 1,000 only.
You can get 1,000 in 1,000 different ways (in fact, more):
1 piece of 1,000 r/d/d/r/r/r
2 pieces of 500 r/d/d/r/r/r
5 pieces of 200 r/d/d/r/r/r
10 pieces of 100 r/d/d/r/r/r
20 pieces of 50 r/d/d/r/r/r
50 pieces of 20 r/d/d/r/r/r
100 pieces of 10 r/d/d/r/r/r
any combination of the above - like 1 note of 500 + 2 notes of 200s + 2 notes of 50s etc.
c) Most of you, may not find a single way to accumulate 40,000 rupees / dollars / dinars / riyals. You may adopt different ways mentioned above - some may be just 1000s, some may be just 200s, some may be combinations of 500s and 100s and so on and so forth.
d) Now, each 1000 rupees / dollars / dirhams / riyals / rupiahs / ringgits shall be bundled into a single item. For single 1,000 notes, you don't need to do anything else. For all other combinations (where there is more than one note), you need plastic transparent zip lock covers. How many do you need? For example, if you have 8 pieces of 1,000 notes and the rest 32 bundles are of various other notes, you need 32 zip lock covers. Zip lock covers are for your own safety. Normal plastic covers also will do. Anything transparent will do.
e) Put each bundle of notes (other than single 1,000) in a plastic cover. Now, you have forty items – either single notes or covers – each of value 1,000 rupees / dollars / dirhams / riyals / rupiahs / ringgits. They should look similar to this:



f) You've a
ccumulated all the hard curren
cy available with your family members. And that doesn't add up to 4
0,000 rupees / dollars / dirhams / riyals / rupiahs / ringgits.
What will you do now?
Here, your craft skills come to your rescue. Prepare white paper currency of 1,000 denominations. Just write 1,000 and Bank of "your name" on pieces of paper cut into the size of currency notes. That's it! Hint: Children in your home would love to do it.
Else, take a screenshot of this note, take print outs and cut them.

Cool or cool?
Now, you can use the paper currency (printed or handmade) as 1,000 notes.
Use this method only for the balance requirement after you've accumulated all the hard paper currency available with your family members.
g) Remember, real currency makes learning more effective. You can take it back after the webinar is over. The above methods are last resorts.
More paper currency makes you paper-trade for more number of years! Don't worry, if don't know what a paper-trade is.
6. Two sets of earphones (not headphones) – one preferably with microphone.
a) One set of earphones should be connected to each device and one earphone of each set should be connected to each of your ears. Confused! See the sketch below: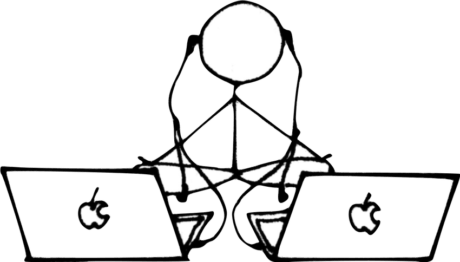 b) If there is another family member, who wants to watch, the other two unused earphones of each set can be used by her / him as shown below: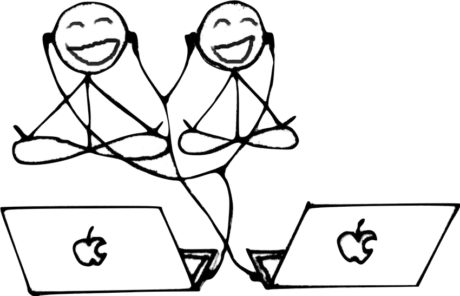 c) If more than two members want to watch the session, you may connect external speakers (if available) to one or both the devices or keep the smartphone in speaker mode with full volume.
Why are the guidelines so elaborate and detailed?
Is it because we don't have any other work to do ? No!
It's because we understand that
PARTICIPANTS ARE MORE IMPORTANT!!
We expect to receive two mails from you!
Please standby for further advice on links to the webinar.
Remember - you will receive two separate links - one for PRIMARY DEVICE and the other one for SECONDARY DEVICE.
VERY IMPORTANT: Use the appropriate link for the appropriate device.
A free gift will be announced at the end of the webinar (after Q&A session) to all the participants, who give correct answers (in the chat box) to 50% of questions asked during the webinar.
THE GIFT WILL BE GIVEN ONLY IF THEY STAY TILL THE END.