Trading stocks
is one of my passions!
I am a Passionate Trainer and Mentor to many stock market traders. I trained many for free!
During my interaction with and mentor ship of traders with various experiences,
various IQ levels
and various backgrounds, I studied the reasons for drastic differences in their performances and factors affecting the patterns of their profits and losses.
---
I studied the following in detail :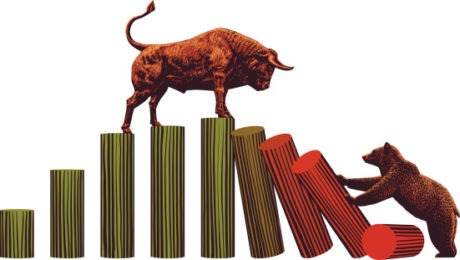 1. Relation between Knowledge of a trader and the profit earned.
2. Personality - Specific Techniques
3. Unnecessary premature exit
4. Trading improvement techniques
5. When to enter a trade
6. One quick trading style to earn daily bread
7. Techniques to remove Fear of Missing Out from mind
8. Tackling emotional part of trading
9. Formats to easily get ready for next trade
10. Trade Homework – before entry
11. Trade Management - during the trade
12. What, When and How to trade
14. The Secret Sauce of Final Shortlisting of a trade
15. When to stop expecting more
16. How to get interest in trading
---
Let me share with you my journey to success!
It was 4th May 1995!
The day of my entry into my first trade! I did extremely bad!
It was 20th May! I almost lost whatever I invested!
I cried and cried and cried …..
I started analyzing the reasons. I could think of three main reasons:
READ MORE ...
With the help of trading skills, I straight away improved my trading style from complete loss-making style to break-even in a few years.
Finally as a result of all the trading skills and techniques learnt and research, I could achieve a remarkable unique trading style.
So, using these trading skills, I transformed myself from loss-making person into becoming a profit-making person.
Since then, I kept on refining the techniques and researching about the way human brain functions and emotions are traded.
Emotions are traded? Yes, you read it right! Emotions are traded in stock market!
I learnt more from world class trainers and success gurus in order to enhance my capabilities in helping myself and global trading community.
I guided and mentored a number of students and helped them improve their performance in a short period of time. Many of them achieved excellent results in trading and became successful in life.
I teach these techniques only to those who are seriously interested to learn and achieve success in life.
I share some of those techniques here in brief for the benefit of trading community.
---
Let me now give the detailed insights!
How are knowledge of a trader and the Profitability related?:
We find traders with different IQ levels and different abilities earn differently. Many of the knowledgeable are losers, in fact. Why does this happen? Is their knowledge becoming a curse to them?
The technique which works well, READ MORE ...
Use of Personality-Specific Techniques:
Do you wear the same dress for all the occasions?
No. Right ?
But when it comes to trading, traders typically think that applying the same techniques yields the same results every time and with every one. Unfortunately, not!
Some get very good results but many don't. The very fact that some produce excellent results, proves that the technique works. The fault is in READ MORE ...
Keep visiting for more insights.